Super Snatcher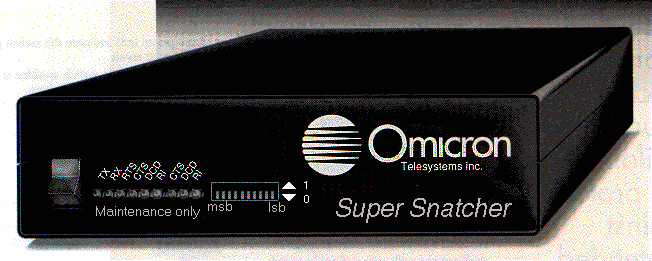 ---
Saves cost$
Consolidates Multi-protocol traffic
Custom applications e.g. POS
No cost Dial Backup
Secure Access
Dynamic Bandwidth
The Omicron "Super Snatcher" provides a cost-effective solution for migration or consolidation of traffic on public or private networks. It may be used for connecting a single device or to consolidate traffic from multiple devices with different protocols and data rates.
Designed for painless consolidation or migration to Frame Relay from Leased Lines and Packet Switched Networks, the Super Snatcher is ideal for :
POS operations.
Bridge/Router environments,
Legacy systems : point-to-point and multipoint,
Client/server environments,
Parallel networks,
Mission-critical systems
Highlights
Super Snatcher benefits :
reduce line costs
improve response time
protect current investment
optimize availability
Dial Backup offers an alternate path in case of failure of Leased Line.
Prioritization and flexible backup features assure the timely and accurate delivery of traffic in mission-critical applications. Switching is code or signal based.
Line Snatcher features saves cost for backup line by sharing an existing telephone line with the backup modem.
Line Snatcher increases access security of backup modem.
Dynamic Bandwidth Allocation provides a parallel path for additional traffic when backup is not required.
Extensive support for standard and proprietary protocols provides painless network consolidation.
Frame Relay Compliance
- Annex G ANSI T1.617
- RFC 1490
- Frame Relay switching
Protocol Support
- SNA/SDLC, X.25, Frame Relay, BSC, Asynch.
- Datapac 3201 & 3101, Proprietary BSC
- Custom Protocols

Management
- LMI
- Netview compatible
- Dedicated port for Network Management and Support.
- Remote Firmware upgrade.
- Traffic Prioritization based on DLCI, protocol, or user port.
- Congestion management with:
Handshake control
Dynamic speed control based on FECN and BECN.
- Powerful diagnostics.
- Centralized testing (e.g. backup facilities, ...)
---
Ordering information:

P/N:         Network Ports     CPE Ports
5130M-00      1st    V.35         1*
5130M-01      1st    V.35         2*
5130M-02      1st    V.35         3*
5130M-03      1st    V.35         1*
              2st     *
5130M-04      1st    V.35         2*
              2nd     *




* : Specify RS-232 or V.35 interface for each port.




DSU/Modem Options :
---


Send e-mail to: info@omicron.ca