Data Circuit Access and Test System (DCATS)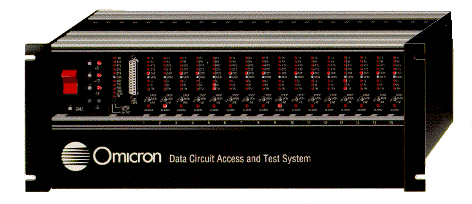 Enhanced diagnostic tool for the restoral of ailing and failing equipment.
DCATS combines network management and dynamic diagnostic tools for timely problem isolation.
---
DCATS (Data Circuit Access and Test System)
DCATS is an integrated network management tool for centralized fault determination, real-time alarm reporting and enhanced diagnostic support.
Originally developed for data carriers to provide signal level monitoring, datascoping and V.54 test facilities, DCATS is a very effective tool for all high availability networks.
Rapidly isolates faulty equipment
Typically attached to communication equipment at hub locations, DCATS concept focuses on "Nailing the Ailing and Failing" components of your network! Not only does DCATS detect and report fault conditions in real-time, it also enables datascoping and loop back testing from the control centre. Consequently, the network manager is always aware of service outages and is able to isolate problem areas without the costly dispatch of technical personnel.
Automated fault detection
Using interactively defined conditions, the monitor function detects and reports all signal level alarms related to remote equipment. Audible alarms and link identification error messages rapidly isolate problem areas.
Internal test facilities locate faulty link sections
DCATS diagnostics offer built-in facilities for end-to-end link testing. Without additional circuits or test equipment, the Network Manager can test local or remote modems on the line or drop side of a link. DCATS internal test generator can call on a variety of diagnostics with standard or user-defined test patterns. If specialized long term or short term tests are required, DCATS provides extensive local and remote access
Datascoping of remote links
Datascoping facilities at the control centre is a feature unique to Omicron`s product series. Without additional circuits or equipment, the Network Manager can view and analyze Rx and Tx data of remote links to determine protocol related faults.
Omicron`s modular architecture
Omicron`s wide range of data communication products is based on an innovative modular design. Reliable products can be mixed and matched in 19" racks. Up to 32 racks with 16 interface cards can be combined for a cost-effective, space saving solution. The Omicron modular concept provides a migration path for network growth by building on investments already in place.
Easy to use operator interface
A menu driven operator interface supported by an on-line help facility provides access and control of network configuration information, alarms, trends, link status, tests, etc. Refer to the SureNeT brochure for more information.
By combining monitoring, datascoping and testing functions, Omicron provides the Network Manager with another powerful fault isolation system to enhance performance and reduce costs.
---
Ordering information:
5075M-00 DCATS (16 RS-232D interface cards)


Send e-mail to: info@omicron.ca