Caller ID Switch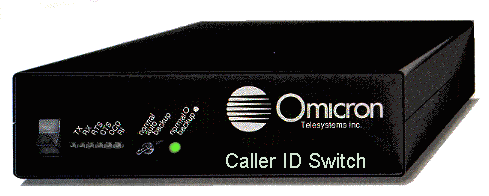 Secure access of remote sites on existing dial lines.
Access your remote sites for backup and management.
---
SWITCHING COMBINED WITH SECURITY
Omicron's Caller ID Switch provides a novel method for automatic and safe sharing of a single telephone line. Up to 3 different applications may be switched (as needed) on one line , without having to pay charges for extra lines. In addition, the product improves the security of remote access.

Major cost savings are realized by sharing an existing telephone line with new or existing backup and management functions. The default position for the shared telephone line is to be connected to a standard telephone, PBX, fax, or modem.

Cost savings are immediate since the Caller ID Switch function can be installed on an existing line, without affecting its normal usage. The programmed applications are activated when the authorized caller dials into the line on which the Caller ID Switch is connected to.

---
A TYPICAL OPERATION:
The Caller ID Switch switches any incoming calls based the caller's identification information provided by the telephone company. Sensing an incoming call, the Caller ID Switch...
captures the Caller ID
searches its database for a match
switches the incoming call to the appropriate port
once the call is terminated, the unit switches the telephone line back to the default port.
---
FEATURES
It is the ideal solution to provide protection against undesirable intruders, without the need to go through passwords, encryption, challenge response, etc... Each calling party is identified by its Caller ID (telephone number and name). The Caller ID feature provides the basis for the secure access and operates as the principal control for the sharing function.
The Caller ID Switch is transparent to Line type, protocol and speed. Because of its modular structure, the Caller ID Switch functionality can be enhanced to include :
modem sharing
speed and interface conversion
SNMP management
---
HIGHLIGHTS
Saves cost of backup and/or management access line
Secures access of backup/management modem
Automatic or manual switching
Easy installation and maintenance
Optional internal modem
Low-cost and unique solution
---
Ordering information:
5170M-00


Send e-mail to: info@omicron.ca